Game Night
Let the games begin! Construct your own board with multi-coloured crackers topped with Castello® Cheeses and an assortment of accompaniments. Castello® Aged Havarti and almond butter leaps over Castello® Extra Creamy Blue with toasted walnuts and lands in your mouth. Your opponent follows suit. A playful way to indulge your senses.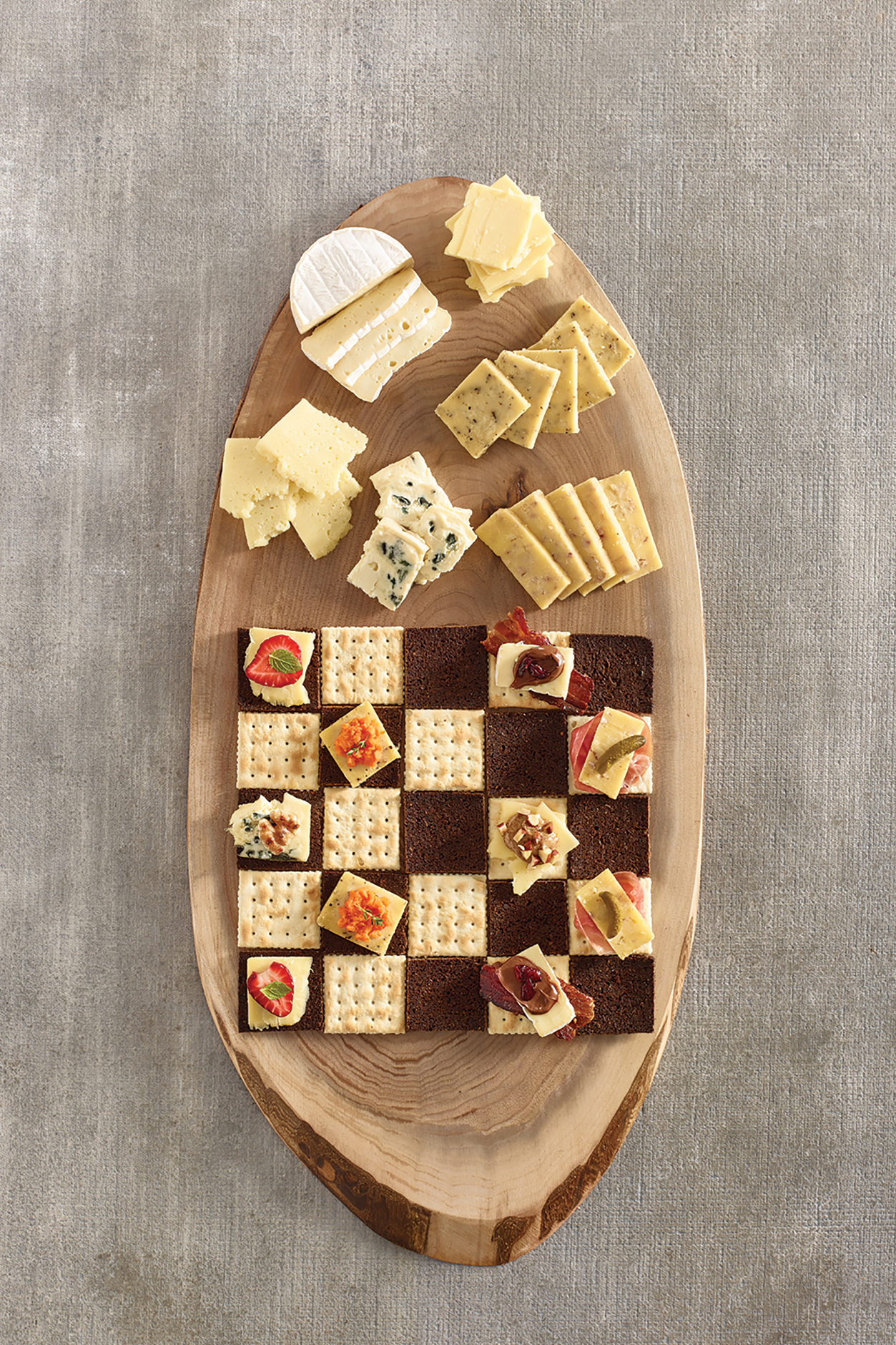 Castello® Tickler Extra Mature Cheddar with a strawberry slice & a mint leaf
This is an extra mature cheddar with a sweet, tangy taste. It is carefully matured for up to 18 months and made by expert cheese makers at the Taw Valley Creamery in Devon.
Castello® Cracked Black Pepper Cheddar with mashed sweet potato & a spring of thyme
Notes of cracked pepper complement the unique sharp and sweet flavours of Mature Cheddar slices.
Castello® Savoury Onion Cheddar with a slice of procsciutto & a gherkin
The rich and salty flavours of Mature Cheddar are rounded by the addition of caramlized onions for a cheese that can stand on its own, or on a Cheeseboard.
Castello® Aged Havarti with almond butter and chopped toasted almonds
Made from traditional cheese methods with the addition of a special culture, the Castello® Aged Havarti is then matured for 12 months.
During the long maturation the crumbly but creamy texture and a rich, buttery taste with tangy notes is created. As it ripens the cheese also starts to develop small crystals for a richer taste experience.
Castello® Extra Creamy Blue with a toasted walnut
This cheese is pleasantly aromatic and delightfully flavoursome. In manufacturing this cheese, we use extra fresh cream to give an added richness to the texture.
Castello® Brie with candied bacon, hazelnut spread & dried cranberries
A soft, white cheese with a mild, slightly aromatic taste. It has a soft, almost spreadable texture.
Pairing Game Pieces
Pair game pieces alternatively with saltine crackers and pumpernickel squares