Mish Mash Pantry Stash
With the wide range of taste profiles that Castello® Cheeses brings to your table, it's easy to indulge in creativity. No need for specifics when it comes to this palate pleaser. Let your senses guide your inspiration and look to your pantry for accompaniments you already have. A little bit of this with a little bit of that and voila! You have a perfectly scrumptious Cheeseboard.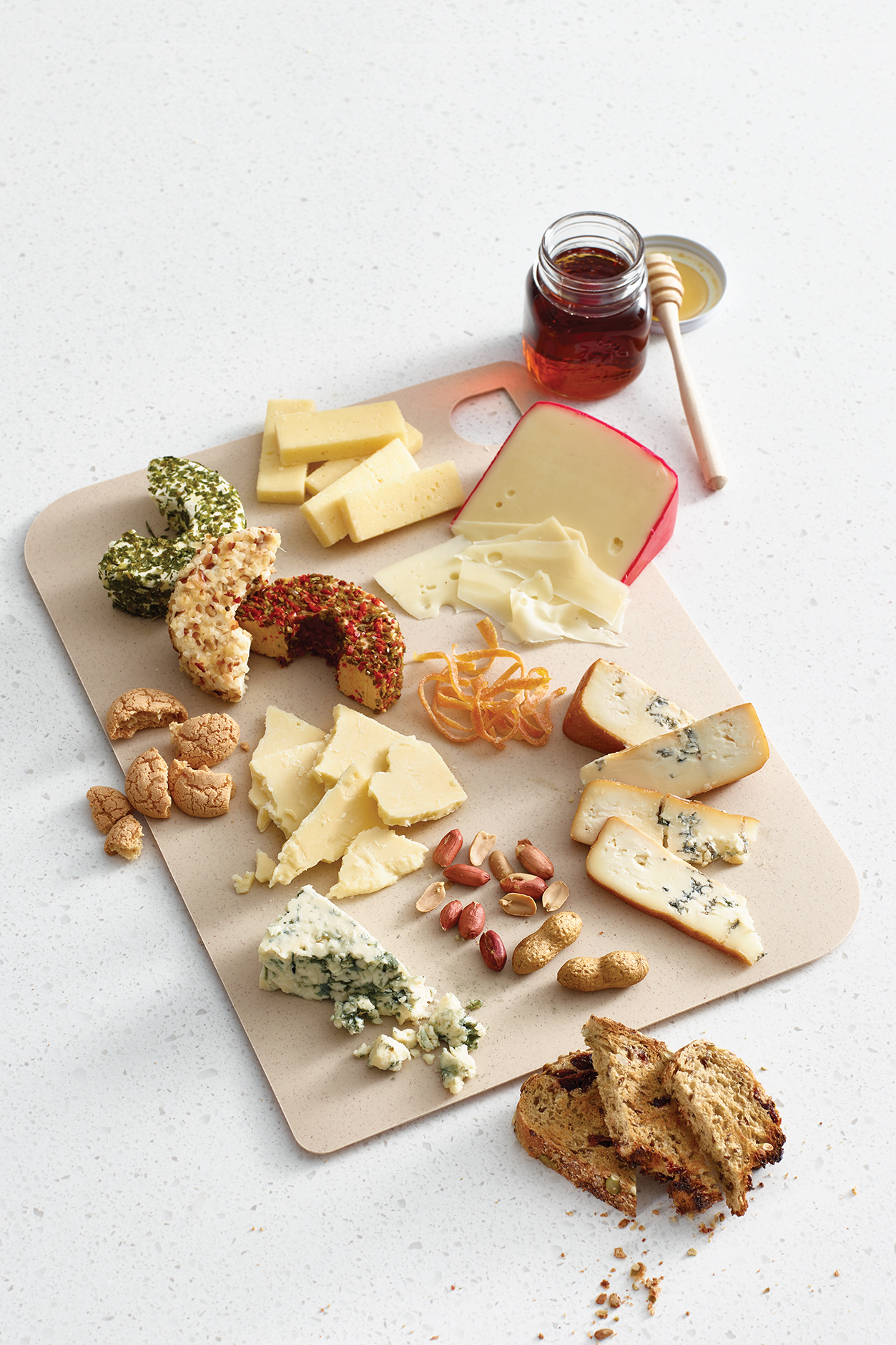 Castello® Cream Cheese with Sweet & Spicy Peppers
Cream cheese with a fine herbal mixture prepared and decorated with chopped herbs and sun-ripened paprika.
Castello® Cream Cheese with Pineapple
A cream cheese made with small chunks ofpineapple with chopped almonds and papaya. It has a sweet pineapple aroma with notes of butter, marzipan and warm syrup.
Castello® Cream Cheese with Chives
Fresh, slightly tangy with a clear and delicate taste of chives and a hint of pepper. Creamy, spreadable consitency.

Castello® Traditional Blue
First manufactured in 1927, this is the acknowledged classic, full-strength Blue Cheese. It differs from other cheeses primarily because it is made using homogenized milk in the cheese-making process which causes the taste to stand out. The taste is sharply piquant and slightly salty, which we refer to as the blue "bite".
Castello® Tickler Extra Mature Cheddar
This is an extra mature cheddar with a sweet, tangy taste. It is carefully matured for up to 18 months and made by expert cheese makers at the Taw Valley Creamery in Devon.
Castello® Aged Havarti
Made from traditional cheese methods with the addition of a special culture, the Castello® Aged Havarti is then matured for 12 months.
During the long maturation the crumbly but creamy texture and a rich, buttery taste with tangy notes is created. As it ripens the cheese also starts to develop small crystals for a richer taste experience.
Castello® Smoked Gorgonzola
A naturally double smoked cheese with a selection of hardwoods including applewood. Castello® Gorgonzola gets it's inspiration from the fine tradition of Italian Gorgonzola, but has that North American twist. While still embodying the classical "Blue Bite" and piquant flavour, the taste is slightly more salty and the texture is firmer.
Castello® Danish Fontina
A mild, pale yellow, cow's milk cheese from Denmark. A semi-soft cheese with a creamy texture.
Grocery List
honey or jam
peanuts in the shell
amaretti cookies
candied orange peel
sliced toast cut into pieces
How to Make Candied Orange Peel
Using a vegetable peeler: peel the skin off an orange between the skin and fruit. Cook in a pot of boiling water for 15 minutes; rinse and drain. Bring 1 1/2 cups of water and 2 cups of granulated sugar to a boil. Add peel, bring to boil, then simmer for 30 minutes. Drain and toss with additional granulated sugar; dry on a cooling rack.