EASTER BRUNCH INSPIRATION
While crafting your Easter brunch menu check out our top picks for savory brunch recipes combining the most classic ingredient of Easter – eggs - with our most loved food – cheese!
Here are our favorite Easter brunch menu suggestions to help you cre-ate a savory and fun holiday meal that everyone can enjoy!
BREAKFAST MUFFINS WITH CASTELLO DOUBLE CRÈME WHITE AND HAM
Sweet or savory, muffins are a fast treat to make for breakfasts, brunch or anytime snacks. These savory breakfast muffins require very little prep and are a perfect fit for the Easter brunch table. The salty cured ham and the mild Castello Extra Creamy Brie is a perfect match giving these muffins plenty of flavours!
FRITTATA WITH POTATOES AND CASTELLO DOUBLE CRÈME BLUE
The only thing that beats an omelet on a weekend morning is a frittata! Frittata is an Italian dish that's per-fect for using up leftovers. But it's also amazing in its simplest form. This frittata is made with fresh pro-duce like sweet onions, crunchy walnuts and fresh, crisp radishes, all of which go perfectly with Castello Double Crème Blue. The subtle fla-vours are all beautifully captured in the potato and egg mixture and make a rich and filling choice for your Easter brunch.
HOT CROSS BUNS WITH CASTELLO DOUBLE CRÈME WHITE AND APRICOTS
These buns are an Easter tradition in many countries and they taste just as fantastic as the smell that spreads throughout your home as they bake. Nutmeg, cloves and car-damom give the buns a spicy flavour that goes nicely with the round taste of the mild Castello Extra Creamy Brie and the sweet dried apricots. These buns make a beautiful addition to any brunch table.
BIRD'S NESTS WITH QUAIL'S EGGS AND CASTELLO EXTRA MATURE CHEDDAR CHEESE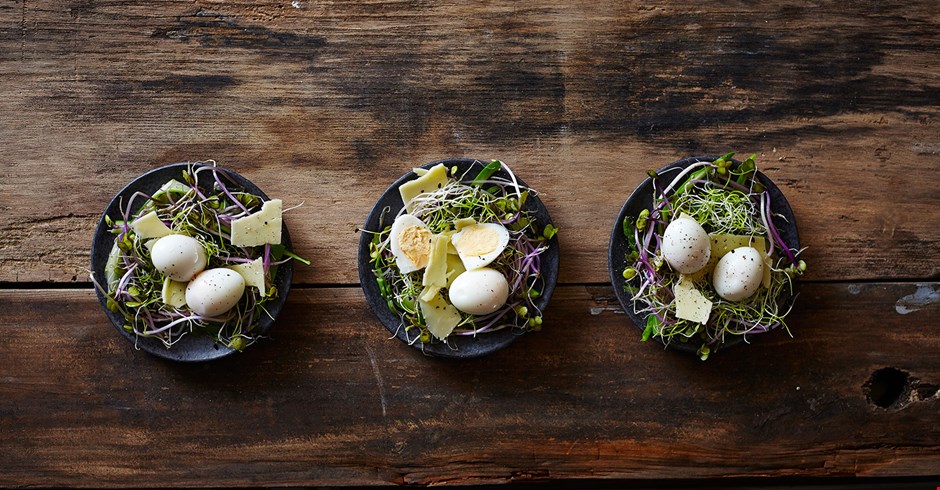 Bird's nests are an easy and beautiful dish for the brunch table. The bottom is made from crisp aspara-gus and the flavourful sprouts make a bold pairing to the cheddar and the soft quail's eggs. And it's a great way to add some veggies to the Easter table.
Want more Easter Brunch Inspiration? Check out all our Easter Recipes.