CREATIVE IDEAS FOR AN UNEXPECTED DATE
Creating a romantic moment is not about how much money you spend or how exotic the location is. It's about creating a unique moment at an unexpected time – making that extra little effort when the special person in your life least expects it.
IDEAS FOR AN UNEXPECTED DATE AT HOME
Sometimes the best dates are the ones you least expect, and what could be more unforeseen than transforming your home and creating the perfect setting for a romantic evening for two.
MAGICAL INDOOR TENT
Create an intimate space for a magical and romantic evening at home with a DIY tent in your living room. It's easy to make, and will immediately set a romantic scene. All you need is:
A couple of sheets
Some string
String lights
Blankets and pillows
Bring together the ends of the sheets and tie the string around. Fix the string to a ceiling light or a hook in the ceiling. Cover the floor with a blanket, get out plenty of pillows and serve simple food that's easy to enjoy when you're all snuggled up on the floor. See how to build a romantic tent here: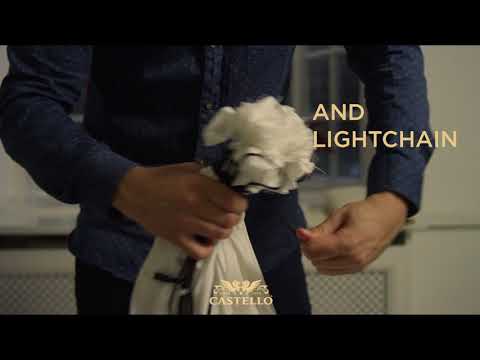 ROMANTIC TREASURE HUNT
Nothing beats the thrill of a surprise like with a romantic treasure hunt. Create a trail of snacky clues throughout your home that lead to your secret date spot. Even if the treasure is as simple as a delicious dinner, the thrill of figuring out the clues will definitely be fun and elevate the moment of surprise when you reveal a lovely candle-lit dinner.
CANDLE-LIT DINNER
Romance isn't always about a grand gesture. You can sweep someone off their feet with the simplest bit of care, like a candle-lit dinner. Create an intimate and romantic mood with lots of candles – guaranteed to bring the wow-effect and challenge your loved ones' senses and taste buds with a tasty finger-food-only dinner instead of a traditional three-course menu.
IDEAS FOR A SURPRISING DATE OUT
A small escape during the week can be spontaneous and easy to plan. All you need is a bit of imagination and a delicious portable meal when you plan a romantic date out of the house.
PERFECT PICNIC DATE
Start early and fill your backpacks with goodies to cook in the open. A nearby park, lake, forest or beach can be the perfect setting for a romantic moment. And if you're feeling very outdoorsy, suggest a small hike to a setting with a breathtaking view. Bring pillows, blankets and plenty of savory goodies that you can cook together and enjoy in the open. Get inspired by some of our PICNIC RECIPES.
ROMANTIC RIDE
Play on the element of surprise by inviting your loved one for a road trip, without revealing the destination. Pack your car with blankets and delicious food and drive off to your nearest green spot. No need to go full picnic and sit on the ground. Instead roll out the blanket and enjoy your tasty treats from the trunk or the backseat of the car.
ELEVATED DATE
Look up and find a rooftop or scenic viewpoint that can elevate the romantic experience. Bring some easy tapas, crispy bread, pesto and savory cheese that you can snack on throughout this unforgettable night under the stars.
All you need now is some delicious food! Check out our collection of recipes perfect for Date Night.