WHAT TO DRINK WITH A CHEESE BOARD?
Choosing the right beverages for your cheese board can be exciting – but also a bit of a challenge. Should you find something that goes with all the cheeses or serve something different for each type of cheese? Here are a few good tips.
A good cheese board should, of course, feature a variety of different cheeses. It should also be interesting, beautiful and offer surprising and varied tastes. Typically, it will include both mild and strong cheeses, sweet and salty. And it will often start with something light and grow richer and stronger as you gradually move through the selection.
But what should you serve with the cheese? That is the big question if you don't want to just fall back on the traditional red wine without putting much thought into it.
After all, cheese isn't just cheese. There are countless varieties and many different beverages that can be paired with them. But the first important decision to make is: Do you want to serve one drink with the cheese selection or pair different beverages with each cheese – or at least with each type of cheese?
The easy – and somewhat costlier – approach is to open up a few different wines. That way there is something for everyone and for every cheese. But even then, what you choose to serve still matters. Some consideration and preparation never hurts – and it's a good way to ensure that your cheeses don't get smothered by the wrong wine or beer, or that the drinks don't taste off because they don't go well with the cheeses you're serving.
ONE DRINK FOR THE ENTIRE CHEESE BOARD
If you only want to serve one beverage with your cheese, then white wine or beer are your best bet.
WHITE WINE & CHEESE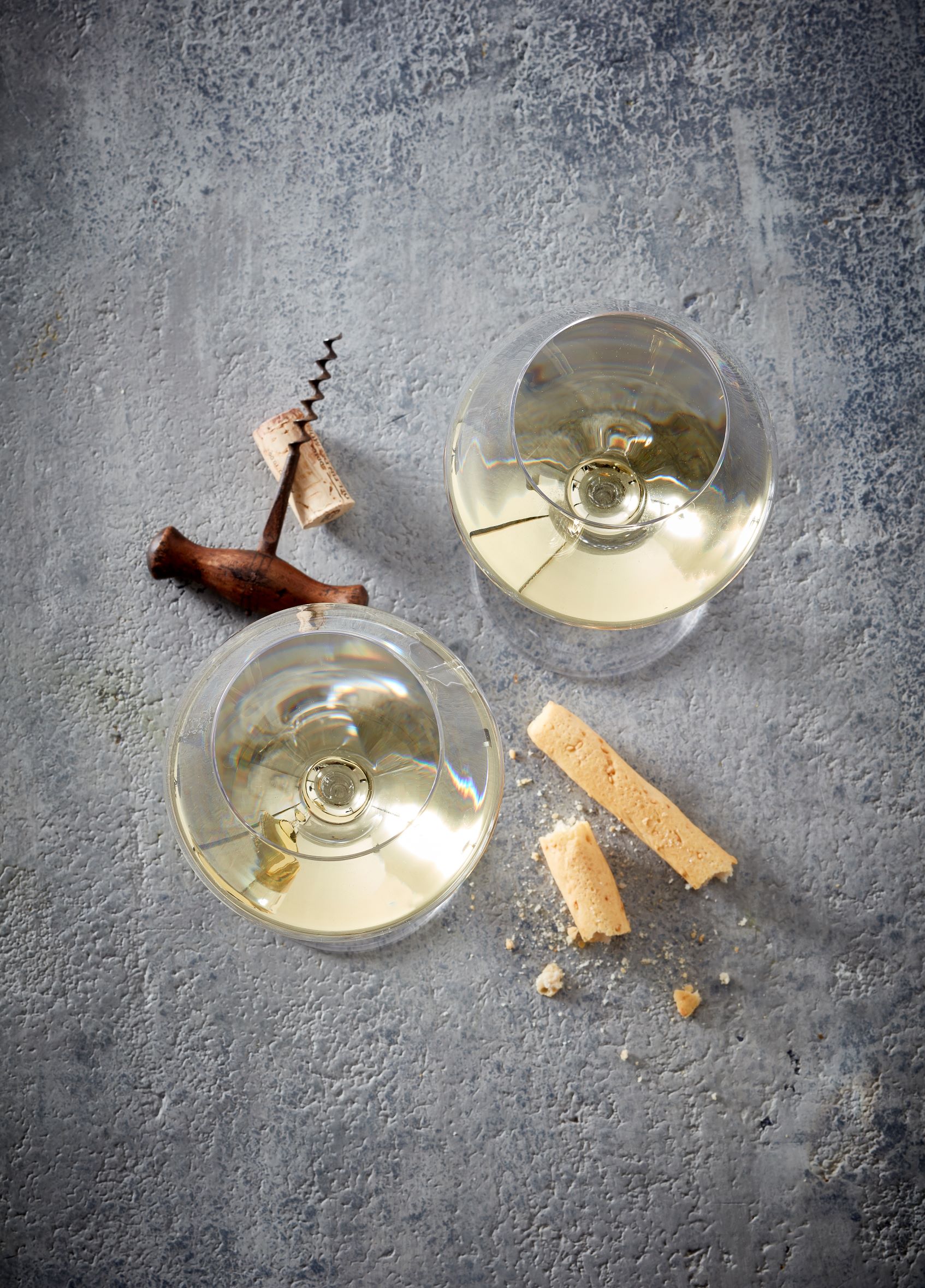 A slightly sweet white wine will often work well, but make sure it's not too sweet and try to find one with a nice acidity to cut through the richness of the cheese. Sweet wines go well with most cheeses, and below are some safe choices:
German Riesling, such as Feinherb, Spätlese or Auslese. These particular white wines are both sweet and quite acidic – and often taste simply divine.
A French dessert wine, such as Sauternes or something similar, also goes well with many cheeses – especially if it isn't too sweet.
Wines made from the Chardonnay grape also pair well with certain types of cheeses, but unfortunately not all of them.
Avoid dry white wines as they rarely pair well with the creaminess and richness of especially the more flavourful cheeses.
BEER & CHEESE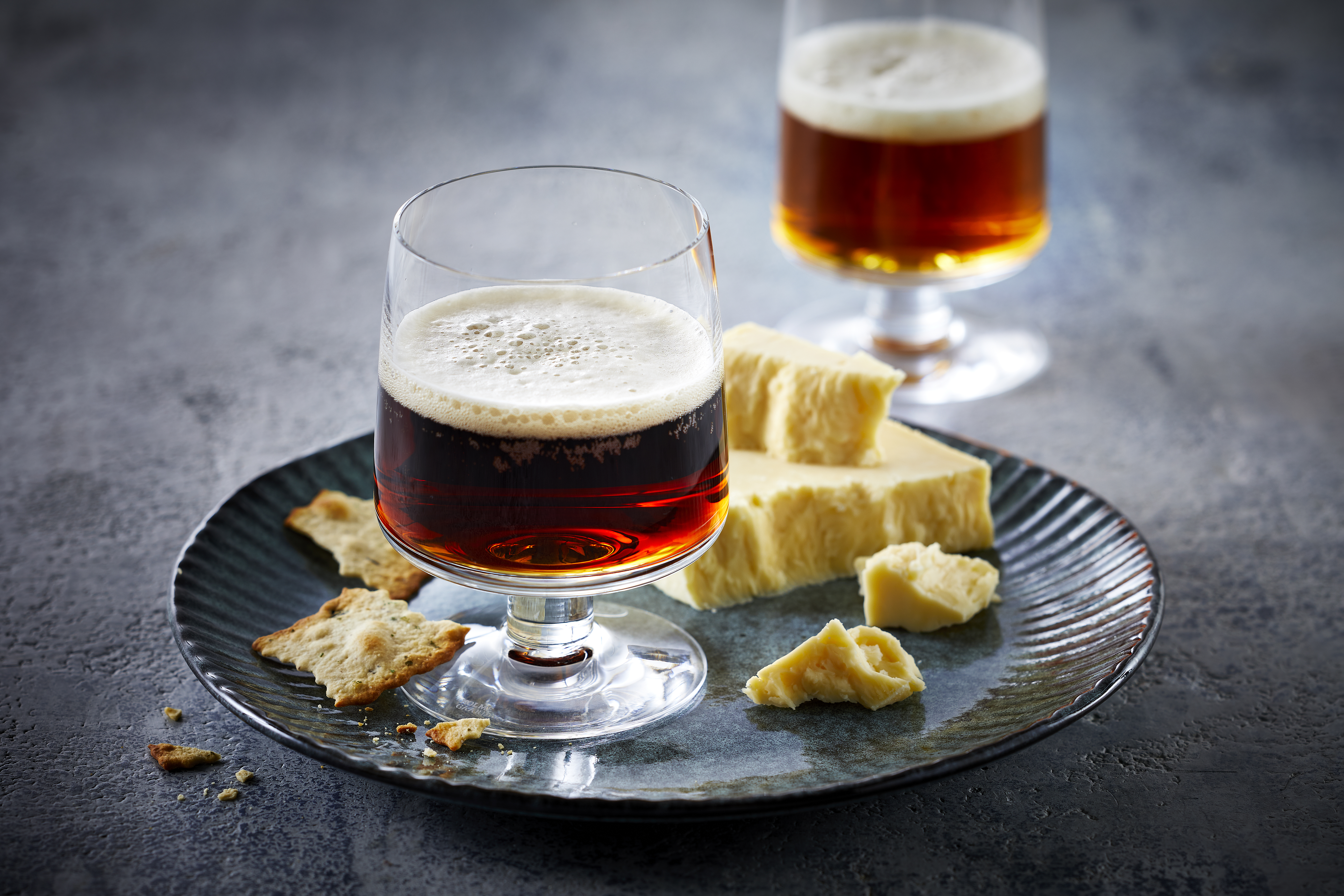 You can also try pairing a beer with the cheese board. A beer that isn't too strong will bring out interesting flavours in the cheeses – for instance hops helps emphasise the floral notes. You might go with something as simple as a slightly hoppy lager or a straightforward pale lager. These two go surprisingly well with many cheeses.
Watch out for very strong beers, which should really only be paired with rich and strong cheeses, as they can easily overwhelm lighter flavours. Another thing to be careful of is beer with a high alcohol content, which can work well with aged cheeses, but generally don't go well with milder varieties.
COCKTAIL & CHEESE
If you're looking for a more unconventional pairing, try serving a gin and tonic. A G&T goes surprisingly well with mild and creamy cheeses, as well as with blue cheese. A gin sour is another all-around cocktail that tastes wonderful with cheese.
One drink pairing per cheese type
If you want to invest in different beverages for your cheese board – but don't want to pair one drink with each cheese (which can be both costly and intoxicating) – you might consider serving the cheeses in 2-3 groups.
The mild and creamy cheeses, such as brie, camembert and similar, pair well with something light. A lager or G&T would go well here. A crisp white wine or a very light red wine, such as Pinot Noir, would also be a lovely match. Or try a Chardonnay that isn't too oaky.
Firm and aged cheeses, like aged gouda or emmental, need something with a bit more oomph. Try a brown ale or a slightly sweeter white wine. The somewhat heavier Belgian beers will also go well here. If you want to serve a cocktail, try an Old Fashioned, with orange notes and sweetness from bourbon – or a Manhattan, which is also quite sweet with a slight bitterness.
Blue cheeses like a strong and sweet drink, which can balance out the saltiness of the cheese. Try a red Amarone, a sweet dessert wine (either red or white) with strong raisin and nutty notes, or perhaps a glass of port. Heavy beers with a high alcohol content also make a good match with blue cheese.
The most important thing to do is match drink and cheese in strength. That is, light cheeses go best with light beverages, and heavy cheeses go well with heavy beverages.
Explore the possibilities. Trying something new is a lot more fun. Even when a pairing isn't perfect, you learn from it and it gives your guests something to talk about.
And if you have enough time, you can always do a test tasting beforehand. You're guaranteed to get a better result and have fun in the process.
Did you decide on what to drink? Now, pick your favorite pairings and dishes for your cheese board!