How to store cheese
How do you store your cheese – and what are the signs that the cheese has gone bad? Get the answers here!
Remove any plastic wrapping
Wrapping your cheese in any type of plastic, whether it be cellophane or bags, prevents it from breathing and builds up too much moisture. Sealing it in plastic alters the protective rind that preserves the cheese, and eventually removes any flavour and texture.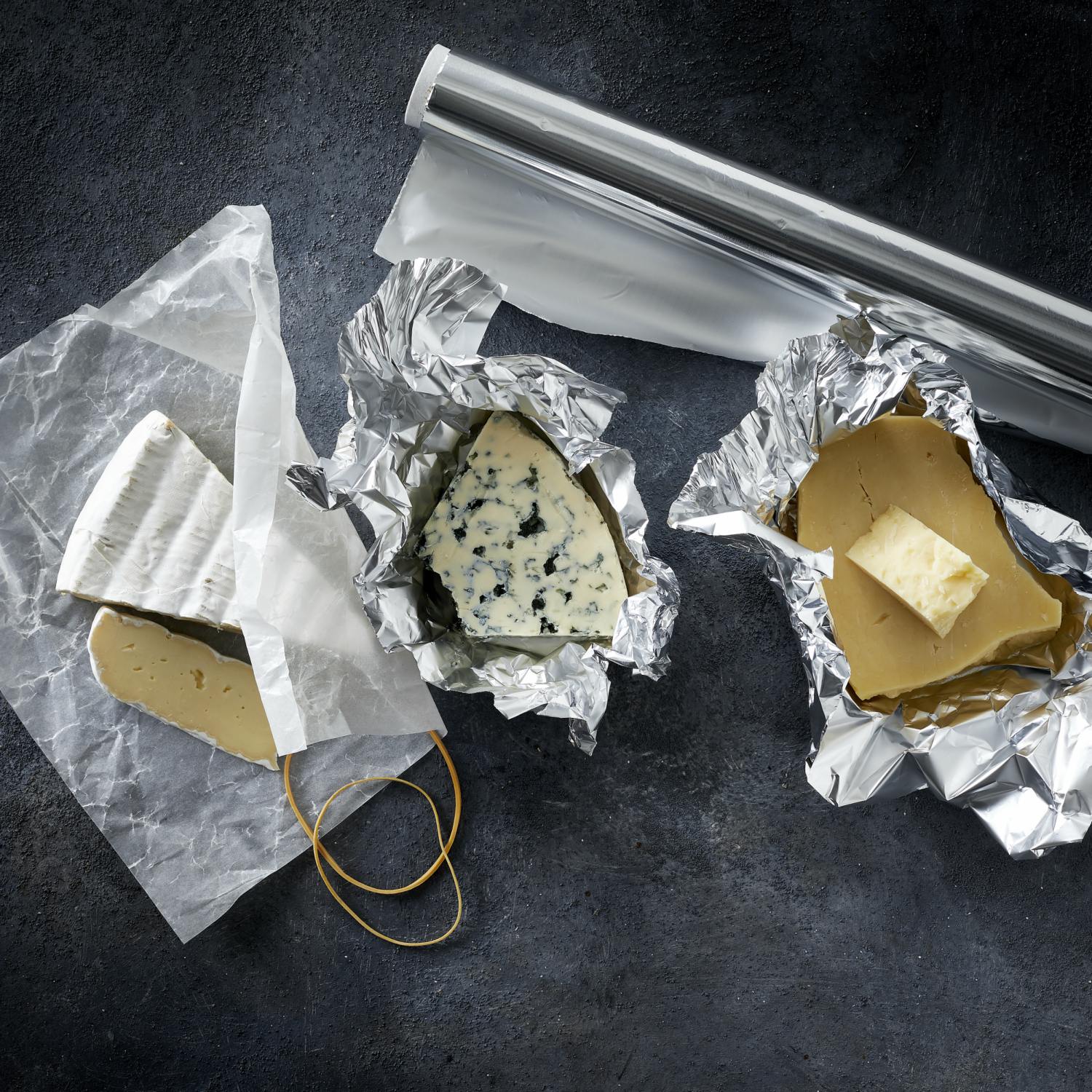 ENJOY FLAVOUR LONGER WITH CHEESE PAPER
To make sure your favourite cheese stays delicious, wrap it in cheese paper. This keeps the cheese from drying out and allows it to breathe, ensuring it will last for longer.
Once wrapped, you should place your cheese in an airtight container to make sure it gets the right amount of moisture. A plastic container also protects the cheese from bumps and ensures that especially pungent aromas won't escape!
Soft cheeses such as Brie and Camembert will last several weeks if wrapped in cheese paper and stored correctly.
DON'T WRAP TOO TIGHT
Wrapping cheese too tightly prevents it from releasing moisture and giving off the odours that can cause ammonia. This can lead to the cheese developing an unpleasant flavour. So when wrapping your cheese, always be sure to leave room for it to breathe.
REPLACE THE WRAPPING
It's impossible to avoid touching the wrapping when cutting or serving your cheese. To avoid bacteria from your fingers or other foods affecting your cheese, we recommend replacing the wrapping paper after each use.
KEEP IT IN THE VEGETABLE DRAWER
You should store your cheese at the same temperature it was cured at. For most cheeses, a temperature between 5-7°C will keep them fresh for a few weeks, provided they have been properly wrapped. Leaving your cheese in the fridge will slow the maturing rate, while warmer conditions allow mould and flavour to develop much quicker. Keep in mind that storing cheese in the refrigerator will eventually dry it out. A much better option would be to store it in the vegetable drawer. Remember to remove your cheese from the refrigerator a few hours before serving – it's a simple way to bring out all the delicate nuances in the flavour.
USE YOUR SENSES
These tips will keep your cheese tasting wonderful for longer, no matter whether it's a tangy cheddar, a heavenly Brie or a zesty blue. If you're in doubt as to whether it's OK to enjoy that last morsel, don't be afraid to touch, smell or inspect your cheese for dryness or any unwanted moisture. Look for any cracks that could indicate dry air and see if you can detect the smell of ammonia. If so, it could be a sign that – sadly – it's time to throw your cheese away.
Now you have your cheese safely stored, find out what to do with your leftovers!
LEFTOVER CHEESE RECIPES
Cheese can play both starring and supporting roles in a surprising number of recipes. Explore our delicious leftover cheese recipes here so you can indulge your cheese cravings to the last ounce.