Fish Pie with a crispy potato and Castello Savoury Onion cheddar topping
Inspired by one of Billy and Jack's childhood favourite dishes, this twist on Fish Pie swaps out mash for a delicious crispy potato and cheddar topping, with Castello Savoury Onion Cheddar Slices.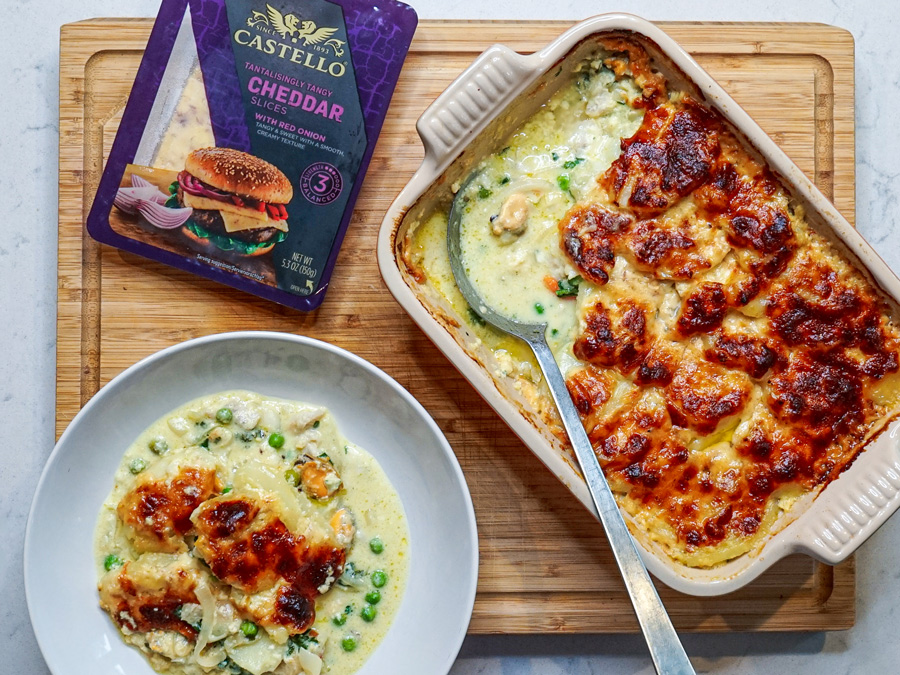 Ingredients
For the filling:
500ml milk
200g white fish such as haddock
200g scallops
200g prawns or picked mussels
2 tbsp olive oil
2 onions finely diced
2 cloves of garlic, sliced
30g butter
25g flour
500ml milk
120ml creme fraiche
120g peas
1tsp English mustard
1 lemon
A small bunch of parsley finely chopped
For the topping:
600g potatoes sliced 0.5cm thick
8-12 slices of Castello Savoury Onion Cheddar Slices
Serves 6
Method
1. Preheat the oven to 190C. Bring a pan of salted water to the boil and cook the potato slices until just soft, this should take around 6 minutes.
2. Sweat down the onions and garlic with the olive oil on a medium heat until they are soft, around 6-7 minutes. Then remove from the pan.
3. In the same pan add 30g butter. Once melted and bubbling add the flour and mix well for 2-3 minutes, stirring, until it starts to smell of biscuits. Slowly add the milk, constantly whisking to combine the butter flour mix. Once all the milk is added, keep whisking until the liquid thickens and becomes glossy and the texture of cream. To this, add the creme fraiche, a teaspoon of English mustard, the juice of half a lemon and a good grind of black pepper.
4. To assemble the pie, put your onion, peas, fish, and shellfish into the sauce. Stir in the parsley and the zest of half a lemon. Top with the potato slices and the Castello Savoury Onion Cheddar Slices.
5. Place into the centre of your preheated oven for 35 minutes or until the mixture is beginning to bubble around the side and the topping is nice and crispy. Enjoy!