Moussaka
John's delicious Moussaka recipe is the perfect dish to be enjoyed around the family dinner table. This Mediterranean classic is packed full of flavours and is inspired by John's many family holidays to Greece.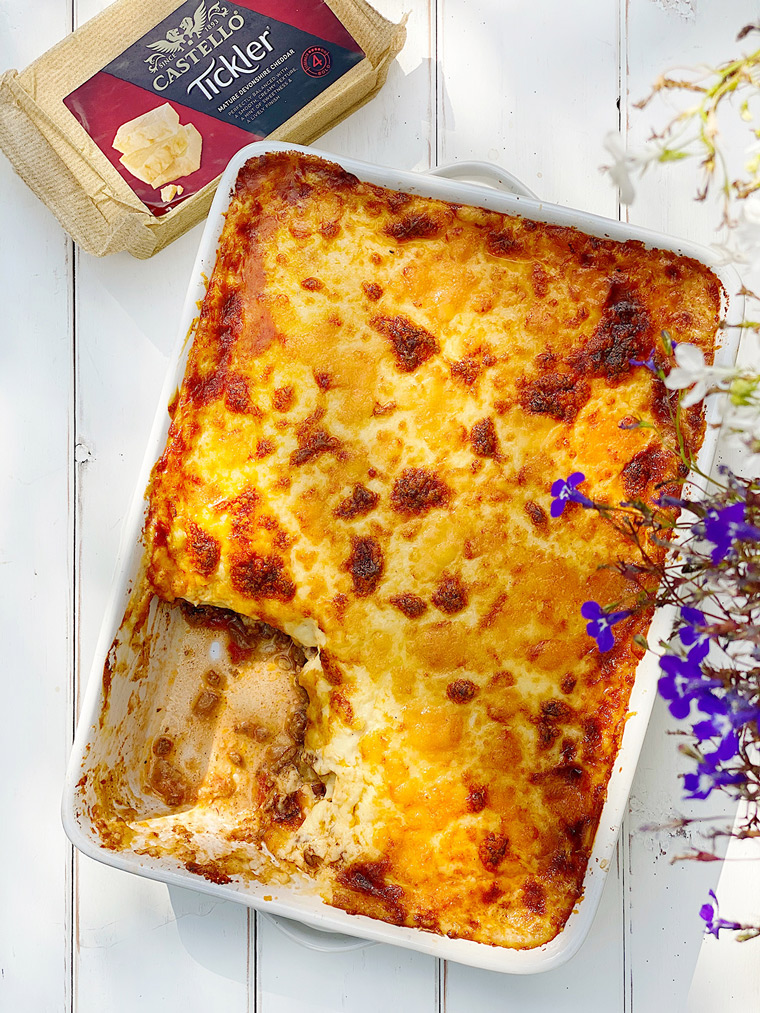 Ingredients
For the filling:
2 aubergines, ½ cm sliced lengthways
5 tbsp olive oil
2 onions, finely chopped
2 cloves garlic, finely chopped
2 tsp dried oregano
1 tsp allspice
1 tsp cinnamon
600g lamb mince
1 x 400g tinned chopped tomatoes
2 tbsp tomato puree
250ml beef stock (1/4 a cube)
For the bechamel sauce:
80g butter
80g flour
750ml whole milk
Fresh nutmeg
160g Castello Tickler Mature Cheddar
2 egg yolks
Sea salt
Method:
Heat a non-stick frying pan over a high heat. Brush the aubergines with 3 tbsp of the olive oil and season with salt. Fry for 2-3 minutes on each side until charred and tender.

Heat the remaining oil in a large pan over a medium heat. Add the onions and cook for 8-10 minutes, stirring occasionally, until golden. Add the garlic, oregano, all spice and cinnamon. Mix well and cook until fragrant. Chuck the meat into the pan and stir-fry for 3-4 minutes until it has a little colour.

Tip the tomatoes, tomato puree and stock into the pan with the onions and add a generous pinch of salt. Mix everything together really well. Reduce the heat a little and cook, stirring occasionally, for 25-30 minutes or until the sauce is lovely and thick.

To make the bechamel, melt the butter in a saucepan over a low-medium heat. Add the flour and mix well until smooth. Slowly pour in the milk, a splash at a time, mixing continuously until it's all gone. It should be lovely and thick. If the sauce looks too thin. Continue to whisk and it will thicken as it heats up. Add a really good pinch of salt and mix well. Reduce the heat to low and cook, stirring occasionally, for 5-6 minutes to cook out the flavour of the flour. Add the nutmeg, 70g of the Castello Tickler Mature Cheddar and the egg yolks. Mix well and remove from the heat.

Preheat the oven to 180 degrees for a fan oven. Grease a baking dish (25 x 35cm) and spoon over half the meat and smooth out. Layer the aubergines over the top. There should be enough to make two layers. Add the remaining meat and even out. Pour over the bechamel and sprinkle over the remaining cheese. Bake for 40-45 minutes until golden and bubbly. Serve immediately.