Homemade tagliatelle with Castello Danish Blue Cheese
Inspired by Manon's road trips around her favourite place in Europe, Tuscany, this simple tagliatelle with Castello Danish Blue is super easy and quick to make.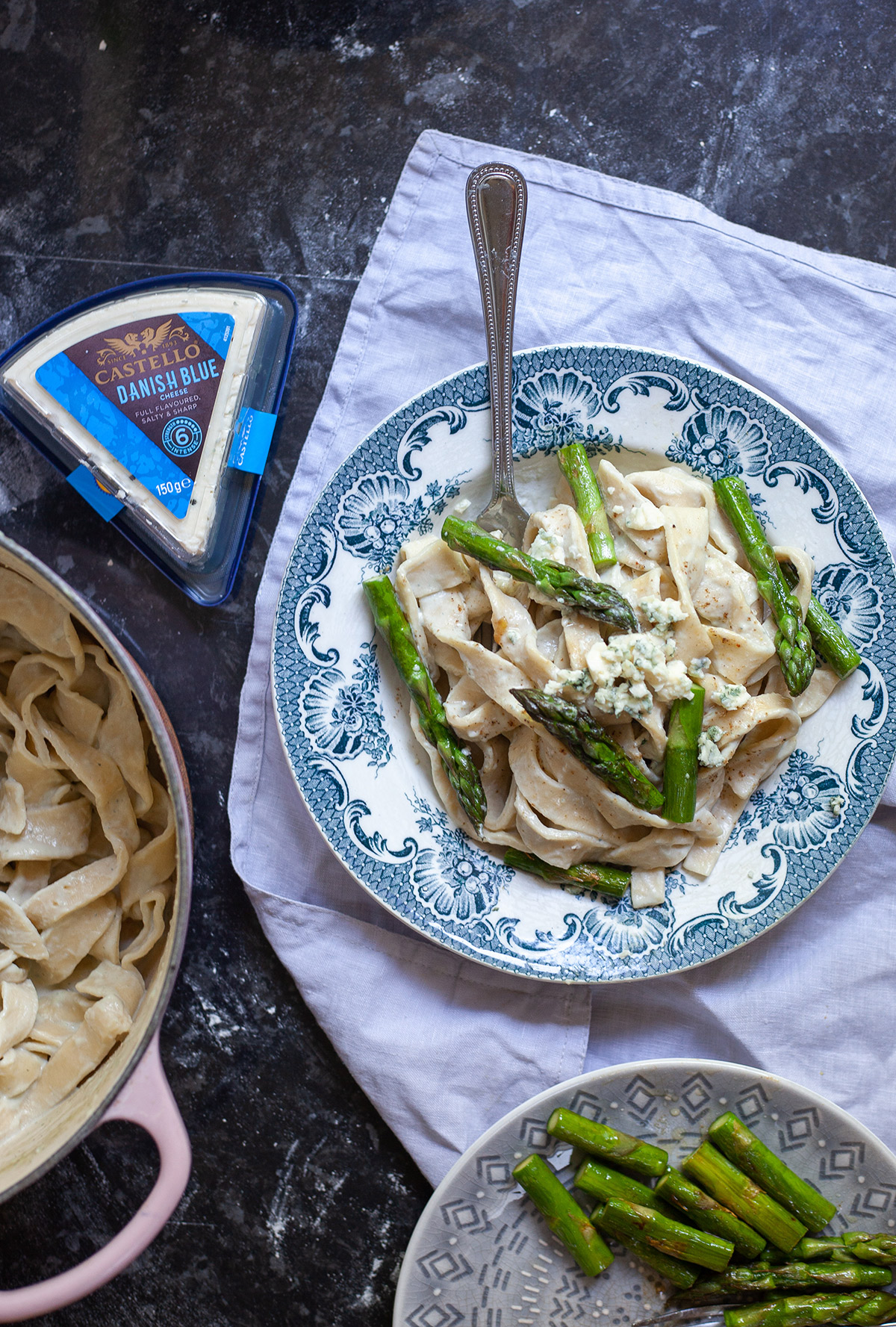 Serves 4
Ingredients
Here's what you'll need to make your pasta:
300g of pasta flour (Type 00)
3 eggs
Extra flour for dusting And for the sauce:
100g of Castello Danish Blue
2 egg yolks
A bunch of fresh asparagus
1 tbsp of salted butter
Salt and pepper for seasoning
Method
How to make your pasta:
1. Pour the flour onto a clean worktop and create a small well with your fingers.
2. Crack the eggs inside of the well and gently bring everything together with your hands to form a ball. Knead the ball for a few minutes, before covering in a bowl and placing in the fridge for at least 30 minutes.
3. Once your dough is cool and ready, remove from the fridge and knead for another few minutes until it is soft and slightly elastic.
4. Divide the pasta dough in two. You can then roll it out with a pasta machine or a roller to create pasta sheets of 1mm thickness. You'll be surprised how easy it is to make the sheets with just a rolling pin!
5. Fold your pasta sheets into three and cut slices of about 5mm in width to make the tagliatelle.
6. Next is cooking the pasta. Boil 3 litres of water seasoned generously with salt. Once the water comes to a boil, add your pasta. You'll know it's ready when your pasta rises to the surface of the water.
7. Take one cup of pasta water and keep to the side, draining the rest into a colander and setting aside.
How to make your sauce:
1. Using the same pan still hot from your pasta, crumble the Castello Danish Blue into the pan with your cup of pasta water.
2. Whisk your egg yolks into the pan and add 2 pinches of pepper.
3. Once the Castello Danish Blue starts to melt, add your pasta into the mix and leave on the heat for a few minutes.
4. Wash your bunch of fresh asparagus and cut into 3. Then, into a hot frying pan, add the butter and fry the asparagus until tender.
5. Finally, serve your pasta onto a dish, spreading the asparagus on top. Top it off with an extra sprinkling of Castello Danish Blue and season with salt and pepper to taste.
Brought to you by Manon Lagrève